Life Cycle GHG PAS 2050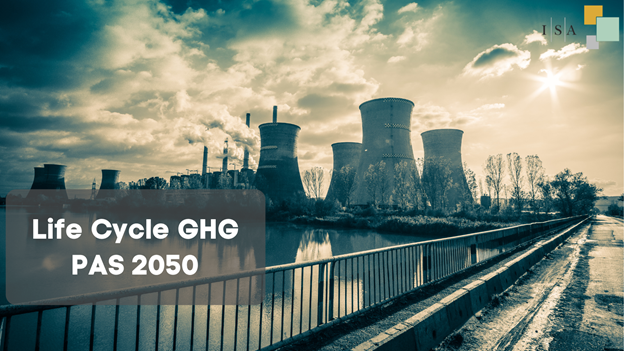 One of the greatest challenges continuing to challenge nations, governments, business and citizens is climate change. This will continue to influence the way in which we live and work for generations to come. Whilst greenhouse gas (GHG) emissions are frequently viewed at a global, national, corporate or organisational level - emissions also arise within these groupings from supply chains within the business, between businesses and between nations.
The British Standards Institution developed PAS 2050 in 2008 in response to the increasing desire of a consistent method for community and industry assessing the life cycle GHG emissions of goods and services.
The life cycle GHG emissions consists of the emissions that are released as part of the processes of creating goods and services.
The standard offers organisations a way to deliver improved understanding of the Greenhouse Gas emissions arising from their supply chains. The primary objective of PAS 2050 is to provide a common basis of GHG emission quantification that will inform and enable meaningful GHG emission reductions programmes.
Benefits of PAS 2050
1. Provide framework for reducing GHG emissions;
2. Supports reporting of GHG emissions;
3. Facilitate the evaluation of alternative product configuration in relation with sourcing or manufacturing methods.
4. Improve your ECO credentials
At ISA we can provide your business with an GHG Emissions assessment covering the life cycle of your goods and services. In accordance with PAS 2050 we will complete the assessments using LCA techniques, according to ISO 14040 & ISO 14044.
By providing your business with a wide range of environmental services we can support your business in achieving the overall goals of becoming carbon zero by 2050.
Contact us today and we will be happy to support your business!