Call or email us for more information about our Concise slips and trips training, preventing an accident at work. We would love to speak with you and find out how we can provide you with what you require. We'll be happy to help in whatever way we can.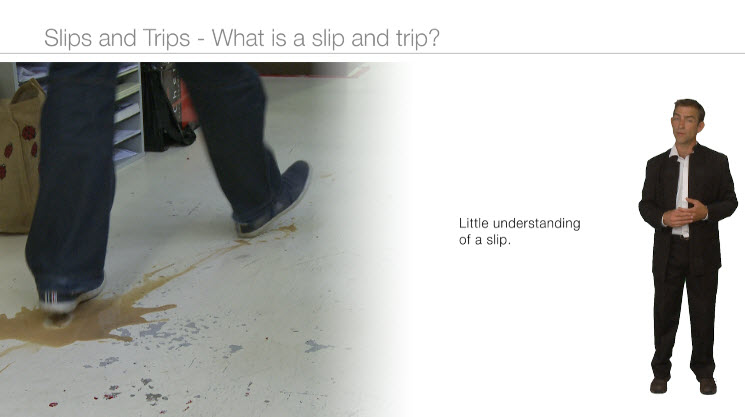 All environments have the capability to produce slips and trips. ETD's Slips and Trips courses teach employees to reduce the risk of accidents occurring in the workplace, making it a safer environment to work in.
The main causes of accidents in the workplace are slips and trips, even though these are the accidents that can be prevented. This training course allows you to meet legislation efficiently by helping your employees understand the principles behind a safer working environment.
This health and safety training course has been designed to fit specific requirements for the majority of organisations. Whether you are working in a hospital or a factory, this course has been produced to meet your specific needs in order to reduce the risks of accidents occurring at work.
In accordance to the UK law and regulation, it is compulsory for each Employer to have slips and trips training in place for all employees. This training can be carried out quickly and efficiently with our Online Management System, which has been designed for small and medium sized enterprises. This training course will support your training requirements, allowing you to monitor the progress of your employees.
For each of our online courses, we provide free online risk assessments in order to help you run your business efficiently.
Background, history and legislation:
This section provides significant statistics involving Slips, Trips and Falls. It entails the knowledge that will allow your employees to understand the legislation involved within this topic. It will also give them an understanding on how to abide by such regulations.
Slips and Trips explained:
This section expresses the difference between Slips and Trips whilst adopting an understanding for preventing any injuries occurring.
Contributory factors increasing the likelihood of an accident at work:
This section explains the six contributory factors to these hazards. You will gain an understanding on how to avoid an accident at work. This section provides you will strategies and ideas on how to prevent injuries occurring in the workplace.
Risk Assessment:
This section provides you with a guide on how to produce a risk assessment that is specific to a potential accident in the workplace. This will make your working environment a safer place by minimising potential accidents.