Call or email us for more information about our Online Manual Handling Training. We would love to speak with you and find out how we can provide you with what you require. We'll be happy to help in whatever way we can.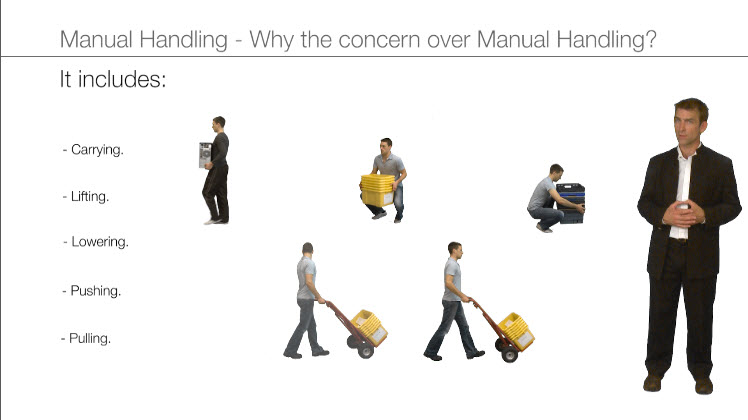 According to The Manual Handling Operations Regulations 1992, it is essential that all UK employers must provide this training for each employee. Manual handling is transporting loads by the use of hand or bodily force and can be as little as moving or pushing boxes around a warehouse.
Most individuals carry out manual handling in everyday life. It is said that one third of work place injuries are down to Manual Handling. It is important to follow The Manual Handling regulations in order to protect employee's well being and to make sure everyone In the workplace is safe at all times.
This course is completely based around the Manual Handling Operations Regulations 1992. It focuses on what you need to do to prevent accidents occurring in the workplace. It provides you with specific skills and techniques that you will need to follow when you are lifting objects.
If an employee was to damage their back due to lifting a heavy object the wrong way, it can lead to injuries that could affect a person for the rest of their life. This is why we highly recommend you to complete this course, in order to look after the long-term health and wellbeing of your workforce.
This course includes a free risk assessment form, available to every online user assigned to a course.
Understanding the Spine:
Learn how the spine works, its Construction, capabilities and limitation. By carrying out this course, your employees will gain an understanding on the injuries that can occur if you move and handle objects incorrectly.
Back Injuries:
Learn about the most common back injuries to occur in the workplace and what can be done to prevent them from happening. Employees will also gain an understanding on severe back and spinal injuries and ways of preventing these injuries from happening.
Manual Handling Operations Regulations 1992:
This section covers the legal aspects of the Manual Handling Operations Regulations 1992. Employees and employers will gain an understanding of the responsibilities they will have in regards to these regulations.
Basic Principles of Moving and Handling Operations:
This second covers the basic principles of the manual handling regulations and operations. This includes the correct way to push, pull and lift objects in the workplace.
This course has been produced to ensure that your employees have a good understanding on how to move and handle objects in the workplace safely and securely 1992. Once this course has been completed, you and your employees will then meet legislative requirements, making your workplace a safer and more efficient environment for all.
ISA can also provide expert led training to your employees, if you would like more information please visit our manual handling courses page.