Call or email us for more information about our Lone and Remote Workers. We would love to speak with you and find out how we can provide you with what you require. We'll be happy to help in whatever way we can.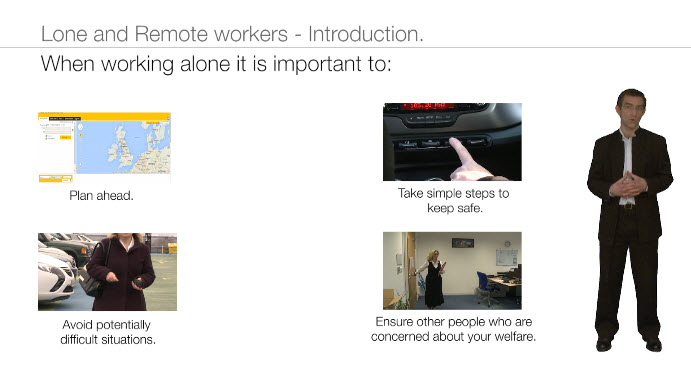 In many working environments, staff work partially alone as a part of their day-to-day work. Whether you are a home-based sales representative, visits clients, a delivery drive etc, you would fall into the alone or remote worker category.
We have online training courses specific for alone or remote workers, which include quality video presentations, interactive games, and to finish off, a final exam. You will receive a certification once you have completed the exam.
A number of individuals find themselves separated from colleagues when working on company business, whether it is in the field or home office based. This is why it is important to make sufficient arrangements to ensure employees are safe at all times.
You receive a free risk assessment form with every online course purchase. This form will successfully act as a record of your completion.
Preparation:
Poor preparation tends to lead people finding themselves in vulnerable or dangerous circumstances. It is essential to have an organised journey plan and itinery. Colleagues need to be able to get in contact with you in the case of an emergency. Just a few things to consider.
Staged crashes:
Staged crashes in which criminals stage deliberate crashes are becoming more of a regular occurrence in this day in age.
The main targets are usually drivers of fleet vehicles, due to the gangs knowing that these vehicles are likely to be fully insured. They also known that the driver is less likely to ask any questions due to them not owning the vehicle.
Arrival at your location:
It is important to consider where to park when you arrive at your destination. Find out where the security cameras are, find out whether it will be dark when arriving back to your vehicle and if so find the best lit part of the car park.
Using public transport:
It is important to plan and decide what public transport you will be using when you are traveling to a planned meeting.