Call or email us for more information about our Computer Health and Safety in ICT. We would love to speak with you and find out how we can provide you with what you require. We'll be happy to help in whatever way we can.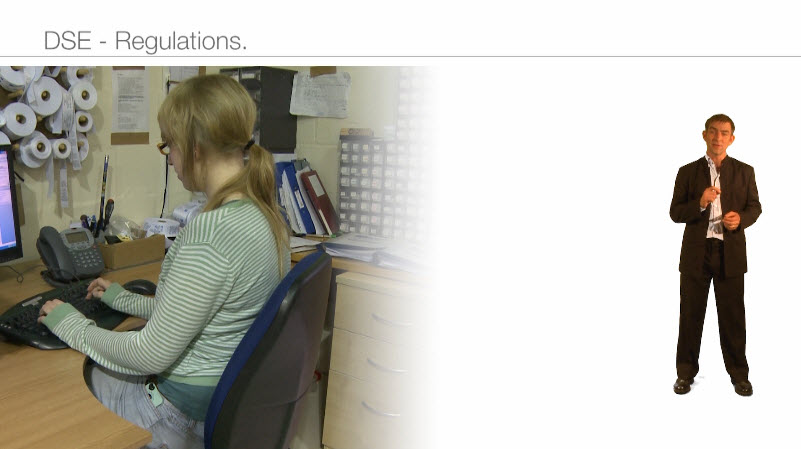 After working at a computer screen for a long period of time, it is more than likely that you have started to get aches and pains, as well as rubbing your eyes, straining your neck or moving around to try and find a comfortable position, even if you realise your not doing it. If you work with Display Screen Equipment on a daily basis without sufficient computer health and safety, you could cause yourself a long-term injury called Repetitive strain injury.
By carrying out some effective training, you could prevent yourself from becoming seriously injured.
Computer Health and Safety in ICT specifically relates to individuals who work on a display screen equipment (DSE) device for over two hours each day.
This course has been created meeting the Display Screen Equipment Regulations 1992 in order to provide you with the fundamental knowledge for keeping individuals in the workplace safe from any injuries occurring.
In order to make sure your working environment is a safe and healthy environment, you can purchase the DSA training course. On purchase, you also receive free online risk assessment forms as extra support.
Introduction to Computer Health and Safety in ICT:
In this section we provide an explanation on Display Screen Equipment, which highlights what is classified as visual display units.
Display Screen Equipment Regulations 1992:
Who can be identified as a DSE User.
In this section we explain the responsibilities of employers and employees involving Display Screen Equipment. (Which are required by law)
Risk assessments:
This section shows how to identify the risks of working with visual display units.
Effects of using DSE:
In this section we express the health risks that can occur through the use of Display Screen Equipment and how they can be prevented.
Posture:
This section provides an overview on how bad posture can lead to serious injury and how the correct posture can help you in day-to-day life
Workstation:
This section shows how a workplace needs to look when it has been set up properly. This could include completing the DSE workstation assessments.
Eye damage:
Eye damage is one of the biggest problems that occur due to Display Screen Equipment. When using DSE your blink rate can reduce by up to half. In this section we express how a visual display unit can cause damage to your eyes and what measures that can be carried out to prevent the risks connected with DSC use, this could involve regular eye and eyesight tests.
Portable VDU:
This section explains the law and regulations in accordance to laptops a long with other portable devices.
Electrical Safety:
This section expresses the electrical safety issues through the use of VDU.
Exercises:
This section explains how health problems through the use of DSE can be prevented when carrying out simple exercises.
If employees are trained in Display Screen Equipment Regulations 1992, you are reducing the risk of injuries occurring as well as protecting your workplace from claim.