Call or email us for more information about our Online First Aid Training. We would love to speak with you and find out how we can provide you with what you require. We'll be happy to help in whatever way we can.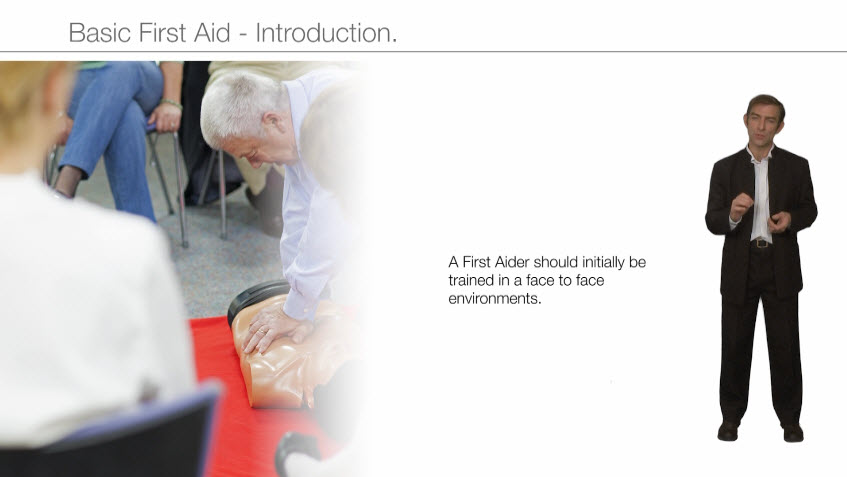 Are you looking to get your employees trained quickly yet efficiently in Basic First Aid? Through the use of inspiring video presentations, exciting interactive games and a final exam, which is carried out upon completion, ETD has the solution for you! For more information about this product do not hesitate to get in touch.
Every year a great number of people suffer from various injuries at work, some of which could have been minimised quite easily if more employees had the Basic Fire Aid knowledge.
This course provides an excellent guide to updating your knowledge and skills in first aid. This course does not train you into becoming a doctor or a paramedic, in fact they are the professionals you want to be there to take over from you as soon as possible.
First aiders have expert skills that make a valuable contribution towards a person's safety and recovery. Fast and efficient decision-making allows you to summon the emergency service in the right manner.
A free online risk assessment form will be provided with each purchase of our online course, which will act as a record of your achievement once you have completed the course successfully.
The importance of First Aid:
Around 150,000 individuals could be saved on a yearly basis if more people knew the basic first aid skills. This course explains what priorities need to be considered until emergency services arrive.
Legislation:
All employers are responsible of making sure there is a first aider in the workplace. They also need to know what legislation states are needed in regards to the topic of basic first aid.
Risk assessing:
This section determines the number of first aiders that are required on the workplace and what equipment is required.
Primary survey:
This section provides information where the participant will learn what needs to be considered when being called to a casualty as well as understanding the after effects that a situation can have on both themselves and others involved.
CPR
When an individual stops breathing their body holds around 4 minutes of oxygenated blood, which means the act of compressions is planned to push oxygenated blood around the body. This section allows you to learn the process of how to perform CPR on a non-breathing casualty.
Secondary survey:
This section explains what is needed if a casualty needed the secondary survey to be performed, also known as 'Top to Toe Survey'
The recovery position:
This section expresses the importance of knowing how to put an unresponsive casualty in the recovery position.
Bleeding and Shock:
This section teaches you the different types of bleeding and the treatment for them. Shock is an incredibly serious condition which needs to be treated as soon as possible.