Call or email us for more information about our Local Exhaust Ventilation Training. We would love to speak with you and find out how we can provide you with what you require. We'll be happy to help in whatever way we can.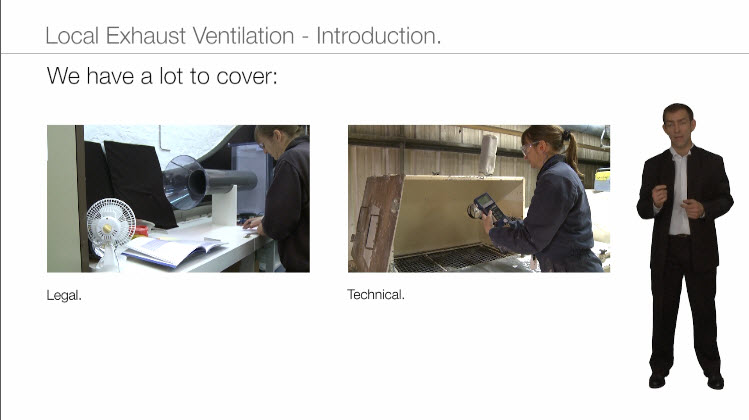 Employees need to be trained in Local Exhaust Ventilation if the workplace deals with dust, vapour, mist, or fumes.
This course includes appealing video presentations, interactive games and to finish off a final exam where you will then receive a certificate. If you require more information on the course do not hesitate to contact us via email or phone call.
Each year thousands of individuals suffer from illnesses, which are cause by contaminants that have been breathed in at work. By taking this course you will gain a greater understanding on how to prevent this from happening.
It is essential that your Local Exhaust Ventilation is working correctly and efficiently. If you have a LEV in your workplace, you need to ensure it is working properly and you need to know what to look for if it isn't. This course will provide you with information on the manufacturing process all the way through to the up keep and maintenance of the LEV system.
You will receive a free online risk assessment form with every online course purchase. When successfully completed, this will act as a record of your completion.
Legal Aspects:
This section covers the legislation for Local Exhaust Ventilation. This includes The Health and Safety at Work Act 1974 (HASAWA), which is the act that all health and safety regulations are made today. The Control of Substances Hazardous to Health Regulations 2002 has also been made under the Health and Safety at Work Act. These regulations were amended in 2005 and 2015, giving us the 'COSHH Regulations' that we all use today.
Components of the LEV System:
The Local Exhaust Ventilation System consists of a hood, a duct, a filter, a fan and an exhaust. The hood is the main design feature of this system, however this course covers each section of an LEV system in great detail.
When it goes wrong:
On a regular occurrence, designs are based on experience instead of calculated flow and pressure requirements. This means that the designer has not really appreciated the extent of the emissions, therefore the hood is inappropriate and will not work. This course covers what you need to do in the event of your LEV going wrong.
Management and use of LEV:
It is important for the local exhaust ventilation system to be well managed, this includes regular examinations and testing. If the LEV is not well managed this could be seen as a failure to comply with the law. The employer has responsibilities explained in HSG 258 for the design, use and maintenance of the system. Essentially, the process and emissions need to be risk assessed and the degree of control by Local Exhaust Ventilation must be recognised.